We are closed on a holiday on Thursday 28.9. and on Friday 29.9. On Friday 29.9. orders will be shipped in the standard way.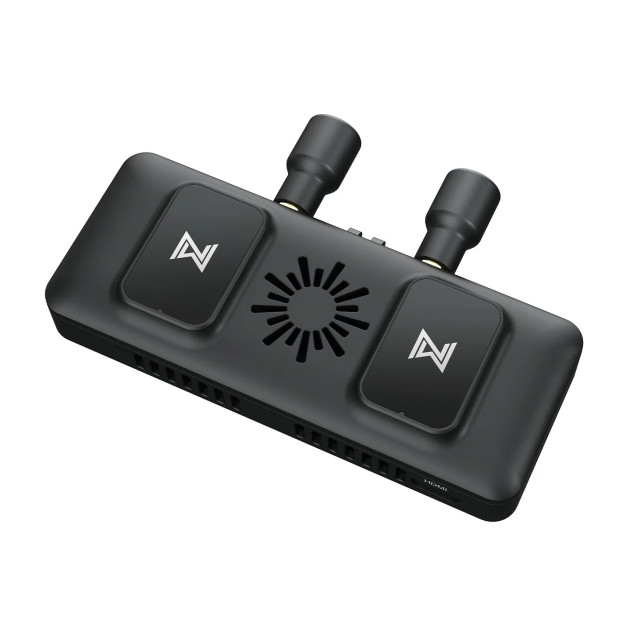 The Walksnail Avatar VRX is a stand-alone digital HD video receiver for the Walksnail Avatar system. The receiver has an HDMI output and can thus be connected to analog FPV glasses, a monitor or a television. Walksnail Avatar digital transmission enables video transmission in full HD (1080p) or HD (720p) quality with a low latency of even 22ms and a high refresh rate of 60/120fps and a data throughput of 25/50mbps. The receiver has 2 RP-SMA connectors. Already in the base, the receiver has two omnidirectional antennas and two integrated directional LHCP antennas.
The receiver is powered via a classic coaxial DC connector 5.5/2.1mm with a voltage of 7-21V (2-5S). Walksnail VRX has a slot for an SD card up to 256GB in size, to which it can record the received image. The Walksnail Avatar system supports the so-called Canvas mode, in which a classic full-scale OSD can be drawn into the image, as you are used to from the analog world. Also worth mentioning is the ranging mode, where the glasses estimate the distance of the drone. So you always have an overview of how far you are, even without the need for a GPS module.
Key Features
Frequency range: 5725-5850GHz
TX Power: FCC:<30dBm; CE:<14dBm
SD card: Micro SD - max 256GB
IPD range: 58-70mm
Output: HDMI 1080p60fps,720p100fps,720p60fps
Input voltage: DC5,5x2,1mm 7-21V (2-5S)
Connector: RP-SMA
Polarization: LHCP
Package Includes
1x Avatar VRX
2x Antenna LHCP
1x HDMI cable
1x Power cable