Due to preparations for the Inovujeme Plzeň race, it will be possible to pick up personal collections only until 1 pm on Friday 2 June 2023. Shipments will be sent in the standard way.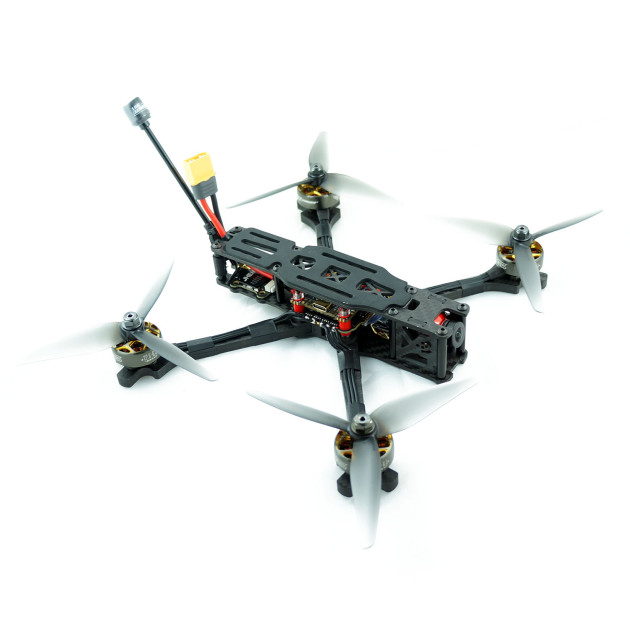 The TBS Source One PNP is a top-quality 5" freestyle copter with analog video transmission. The copter is especially suitable for freestyle flying and filming videos with a GoPro camera.
The copter is powered by RCinpower Wasp 22.6-6.5 1860Kv motors in combination with 60A ESC and a 6S battery. Thanks to the low weight of 345 grams without battery, the copter is very fast and agile. The flying is handled by the Skystars F7 Pro3 FC. Thanks to the F7 processor, the board handles all modern functions. There is also a barometer for height measurement and 8MB of blackbox memory. The Skystars KO60A 60A ESC uses BlHeli_32 firmware. It thus supports higher PWM frequency and bidirectional Dshot. Video transmission is provided by the Caddx Ratel 2 camera in combination with the Jhemcu VTX20 video transmitter with a power of up to 600mW. The HGLRC Hammer Long range antenna is high above the frame and battery. Thanks to this, nothing shadows it and does not obstruct the video signal. A beeper with a battery is installed on the copter. If the battery is disconnected, it will automatically start beeping until you turn it off with the button. In the event of a fall and disconnection of the main battery, you can still easily find the copter by beeping.
The recommended battery is 6S with a capacity of 1300-1500mAh.
We deliver the copter in the PNP variant - without receiver. Choose it according to your RC radio.
Components used: