Due to preparations for the Inovujeme Plzeň race, it will be possible to pick up personal collections only until 1 pm on Friday 2 June 2023. Shipments will be sent in the standard way.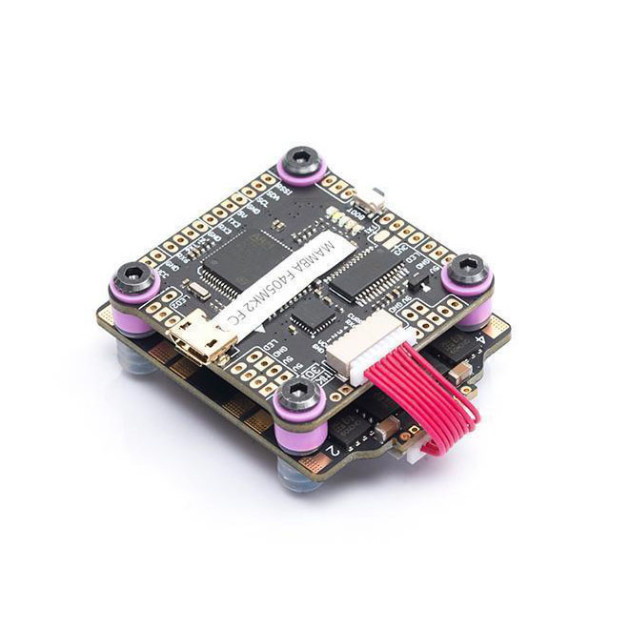 Diatone Mamba F405 MK2 + 50A ESC MPU6000
Diatone Mamba F405 MK2 + 50A ESC je kombinace F4 řídicí jednotky a 50A regulátoru. Řídicí jednotka používá spolehlivou IMU jednotku MPU6000, má 16MB paměť pro blackbox, OSD, 5V a 9V BEC a může být napájena 3-6S baterií. Regulátor používá firmware BlHeli_S, má proudový senzor a podporuje napájení 3-6S baterií. K regulátoru je nutné připojit externí filtrační kondenzátor.
Oproti pokročilejším a dražším stacků, tomuto chybí věci jako barometr, konektor pro připojení DJI FPV nebo podpora RPM filtrů. Má však všechny základní potřebné funkce a pokud hledáte dostupný stack, který vás dostane do vzduchu, tento je správná volba.
Schéma zapojení najdete zde.
Key Features
Procesor: STM32F405RGT6
IMU jednotka: MPU6000
Blackbox: 16MB paměť
Počet UARTů: 3
BEC: 5V@2.5A, 9V@2A
Vstupní napětí: 3-6S
BF Target: FURYF405OSD
Montážní otvory: 30,5x30,5mm M3
Velikost FC: 38x38x7mm
Velikost ESC: 45x41x6.5mm
Package Includes
1x Řídicí jednotka
1x Regulátor
1x Sada příslušenství