Due to preparations for the Inovujeme Plzeň race, it will be possible to pick up personal collections only until 1 pm on Friday 2 June 2023. Shipments will be sent in the standard way.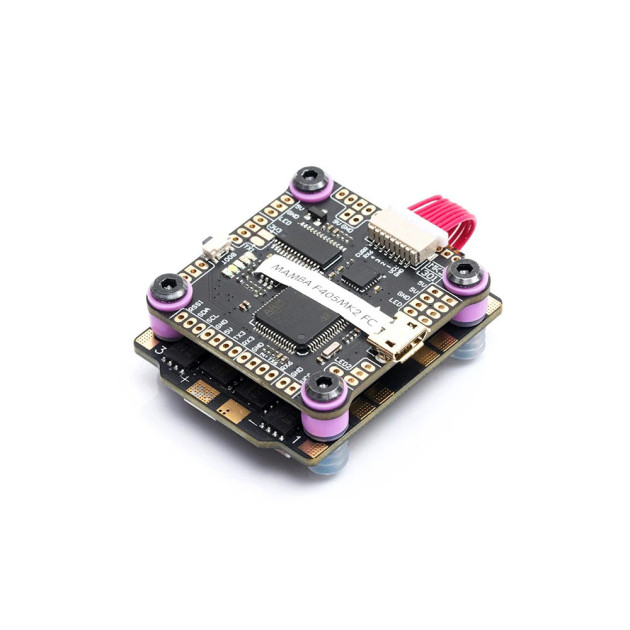 Diatone Mamba F405 MK2 + 40A BLS ESC (MPU6000)
Diatone Mamba F405 MK2 + 40A ESC is a combination of F4 control unit and 40A ESC at a favorable price. The control unit uses a reliable IMU unit MPU6000, has 16MB memory for blackbox, OSD, 5V and 9V BEC and can be powered by 3-6S batteries. The controller uses the BlHeli_S firmware, has a current sensor and supports the supply of 3-6S batteries. An external filter capacitor must be connected to the controller.
Unlike more advanced and more expensive stacks, it lacks things like a barometer, a connector for connecting a DJI FPV or support for RPM filters. However, it has all the basic features you need, and if you're looking for an affordable stack that gets you in the air, this is the right choice.
You will find the wiring diagram
HERE
.
Key Features
Processor: STM32F405RGT6
IMU unit: MPU6000
Blackbox: 16MB memory
Number of UARTs: 3
BEC: 5V@2.5A, 9V @ 2A
Input voltage: 3-6S
BF Target: FURYF405OSD
Mounting holes: 30.5x30.5mm M3
FC size: 38x38x7mm
ESC size: 45x41x6.5mm
Package Includes
1x Control unit
1x ESC
1x Accessory set