Due to preparations for the Inovujeme Plzeň race, it will be possible to pick up personal collections only until 1 pm on Friday 2 June 2023. Shipments will be sent in the standard way.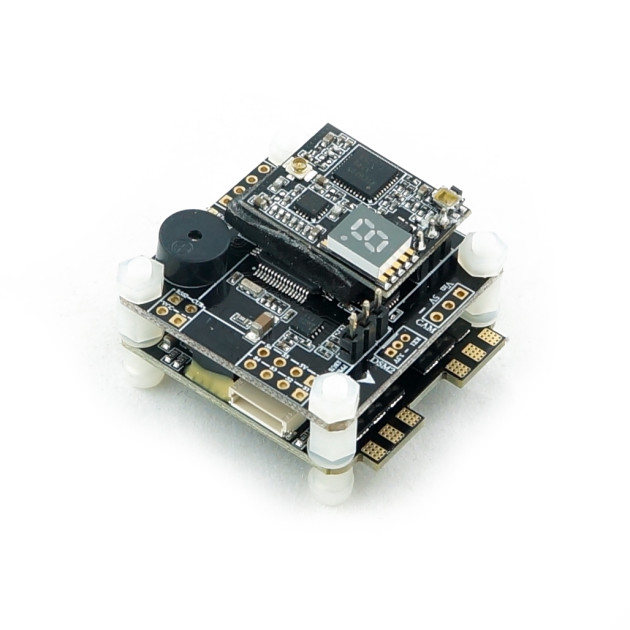 Emax F4 Magnum BLS (MPU6000)
The Emax F4 Magnum is a stack of flight controlelr, ESC and video transmitter designed especially for freestyle drones and recreational flying. The basis of the FC is a F4 processor and a reliable MPU6000 gyro. The board has 5V 3A BEC, OSD, integrated LC filter and 16MB memory for blackbox. The FC has pins for easy connection of the XM+ receiver.
The stack support 2-4S battery and a maximum current of 30A. The firmware used is BlHeli_S. The ESC has an integrated current sensor.
The video transmitter has a switchable power of 25/200mW. The u.FL connector is used to connect the antenna. The video transmitter is set using a button located on the side of the magazine.
Key Features
Power supply: 2-4S
Processor: F4
Gyro: MPU6000
Blackbox: 16MB
BF Target: Omnibus F4
Maximum current: 30A
ESC FW: BlHeli_S
Power vtx: 25/200mW
Connector: u.FL
Package Includes
1x Stack (FC+ESC+VTX)
1 x XT60
1x Capacitor
1x SMA pigtail
1x Linear antenna