Due to preparations for the Inovujeme Plzeň race, it will be possible to pick up personal collections only until 1 pm on Friday 2 June 2023. Shipments will be sent in the standard way.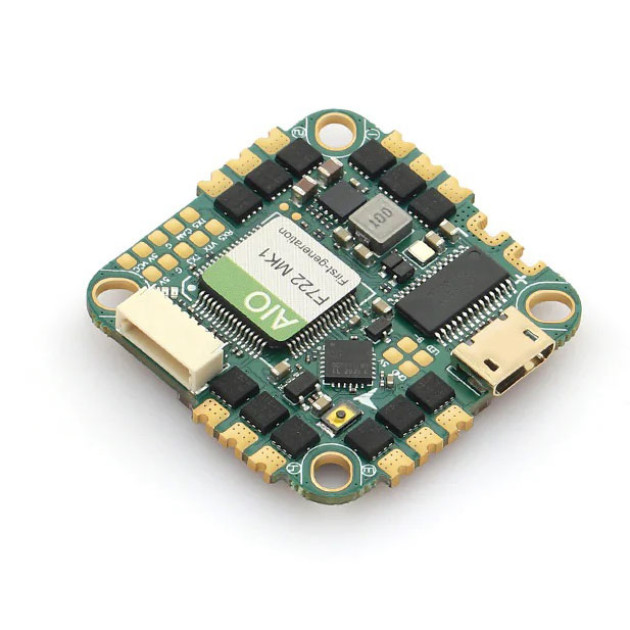 Diatone Mamba F722 MK1 35A 3-6S AIO BLS
Mamba F722 MK1 35A 3-6S AIO is a powerful board with F7 processor and 35A ESC in one. The board is especially suitable for smaller drones, cinewhoops or ultralight toothpicks. The board has a mounting hole spacing of 25.5x25.5mm with a 3mm hole. When using softmounts, the board is installed on M2 screws. The basis of the flight controller is a powerful F722 processor and ESC with BlHeli_S firmware. The board is also equipped with a current sensor, a barometer, a 5V BEC and a TVS diode. It can be powered by a 3-6S Lipo battery.
Key Features
Input voltage: 3-6S (8.4~25.2V)
BF Target: MAMBA F722_2022B
MCU: 216MHz STM32F722
IMU: ICM42688P
Barometer: Yes
OSD: Yes
Blackbox: No
Number of UARTs: 5
TVS Diode
BEC: 5V 2.5A
Mounting holes: 25.5x25.5mm M3/M2
Current: 35A
Package Includes
1x AIO board
1x Capacitor
1x Set of cables
1 x XT60