Due to preparations for the Inovujeme Plzeň race, it will be possible to pick up personal collections only until 1 pm on Friday 2 June 2023. Shipments will be sent in the standard way.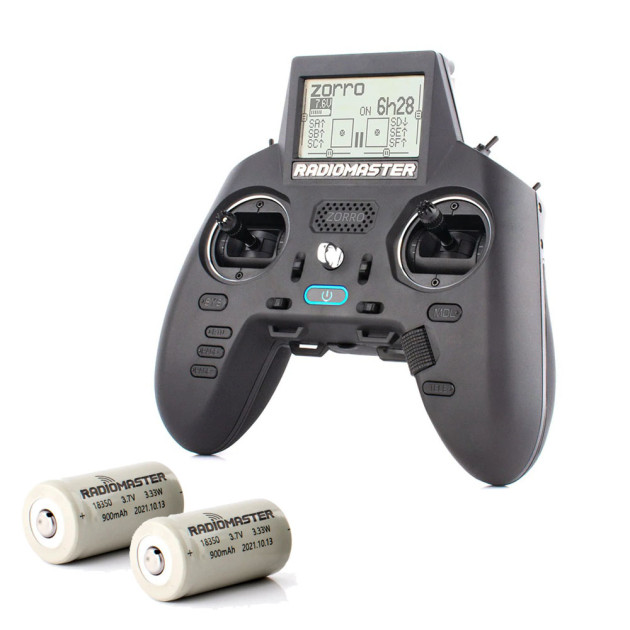 Radiomaster Zorro 4v1 + 2x Liion 18350
The Radiomaster Zorro 4in1 is a feature-packed radio with an excellent price / performance ratio. Radiomaster Zorro is available in several versions. This 4in1 version includes a 4-chip multiprotocol transmitter module that supports Flysky, Frsky, DSM, Syma, Devo and many other protocols. The full list can be found
here
. Zorro is based on EdgeTX firmware, which is based on the well-known OpenTx. As with other EdgeTx / OpenTx radios, the radio settings are solved using buttons and a roller. The information is then displayed on the LCD screen.
The main advantages of Zorro are small size, Hall gimbals, Nano shaft for external modules, USB-C for charging and connection to a PC, plenty of switches, rubber fingerboards, headphone output and the possibility of powering external 2S batteries. The radio is powered by two Liion 18350 batteries (included). The radio comes in mode 2, but can be easily changed to mode 1.
Key Features
Dimensions: 170x159x108mm
Weight: 350g
Frequency band: 2.4GHz
Transmitter module: 4in1 Multiprotocol
Transmitting power: max 20dBm
Consumption: 160mA@8.4V DC
Input voltage: 6.6-8.4V DC (2x 18350)
Firmware: EdgeTX
USB charging
Gimbaly: Hall
External slot: Nano
Package Includes
1x Transmitter
1x USB-C cable