Due to preparations for the Inovujeme Plzeň race, it will be possible to pick up personal collections only until 1 pm on Friday 2 June 2023. Shipments will be sent in the standard way.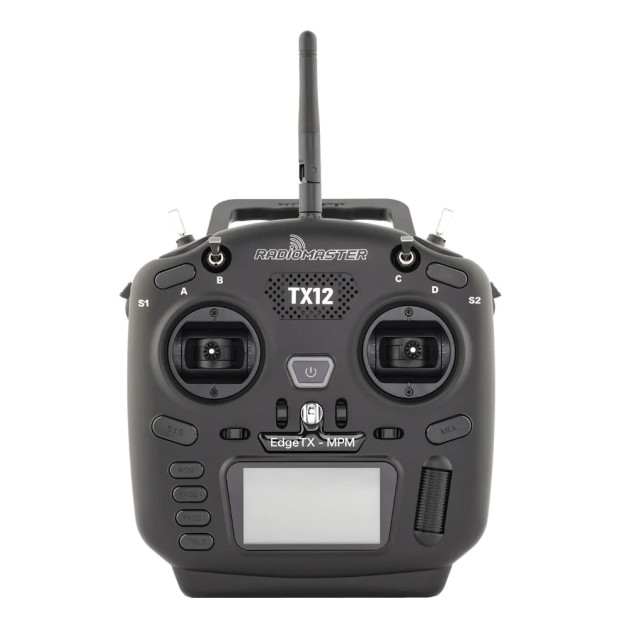 Radiomaster TX12 is a multiprotocol transmitter with open source firmware EdgeTX and Hall gimbals. The TX12 transmitter uses an integrated, multi-protocol transmitter module with a CC2500 chip. The module supports Corona, Hitec, Futaba S-FHSS, Frsky D16 / D8, RadioLink, Graupner HoTT* protocols and many others based on the firmware used. The transmitter has a JR shaft and can be expanded with other external transmitter modules such as TBS Crossfire or Tracer.
The supply voltage of the transmitter is 6.6-8.4V DC. The transmitter package contains a cage for two 18650 batteries. The batteries are not included in the package. They can be charged via the USB-C connector on the top of the transmitter, which is also used to connect to a PC. A pleasant feature is the detachable antenna and tilting holder, which saves space in case of transport.
The transmitter is delivered in mode 2 as standard.
Key Features
Size: 170x159x108mm
Weight: 407g (without battery)
Transmission frequency: 2,400GHZ-2,480GHZV
Internal multiprotocol module
Power batteries: 2x 18650 Li-ion (batteries not included)
Number of channels: 16 (depending on the receiver)
Display: 128x64px monochrome
Hall gimbals
Firmware update: Support online USB-C / SD card offline
Protocols: Corona, Hitec, Futaba S-FHSS, Frsky D16 / d8, RadioLink, Graupner HoTT *
Package Includes
1x Radiomaster TX12 transmitter
1x Transmitter antenna
1x Cage for 2 18650 batteries
1x USB cable
1x Antenna terminal cover
1x Brief introduction in English and Czech