Due to preparations for the Inovujeme Plzeň race, it will be possible to pick up personal collections only until 1 pm on Friday 2 June 2023. Shipments will be sent in the standard way.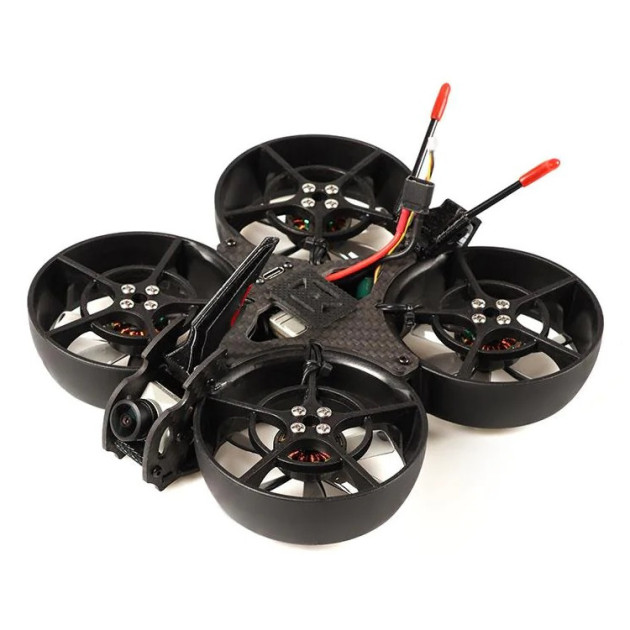 HGLRC Racewhoop25 2,5" - 6S ELRS
HGLRC Racewhoop25 is a Cinewhoop for 2.5" propellers and 6S batteries with a capacity of 650-1000mAh. Racewhoop is equipped with 2004 3000Kv motors, which provide enough power not only for carrying Naked GoPro cameras, but also for the classic large Gopro Hero 6/7/8 cameras. The propeller covers are made of very durable plastic and so, unlike other smaller 2.5" Cinewhoops, the HGLRC Racewhoop can withstand many falls. Pusher configuration with thruster propeller increases propeller protection and improves flight efficiency. Thanks to the USB-C connector on the upper plate, the drone can be set up very easily without the need for disassembly. The HGLRC F728 stack takes care of the flight. Powerful F7 control unit with blackbox and controller with BlHeli_S firmware. Video transmission is provided by a Caddx Ratel 2 camera in combination with an 800mW HGLRC Zeus video transmitter and an HGLRC Hammer antenna.
The BNF racewhoop comes with an ELRS receiver. However, it can be easily replaced.
Key Features
Durable plastic propeller covers
Recommended battery: 650-1000mAh 6S
Weight: approx. 220g
Stack: HGLRC Zeus F728
VTX: HGLRC Zeus 800mW
Engines: HGLRC Aeolus 2004 3000Kv
FPV Camera: Caddx Ratel 2
Propeller: HQ Prop T63mm 6-blade
Receiver: HGLRC Hermes 2.4GHz ELRS